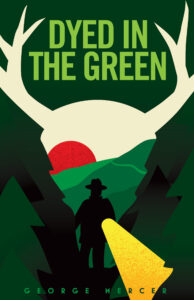 Silver Medal – 2019 Independent Publisher Book Awards – Fiction Series
National Park Warden Ben Matthews expected challenges with his new posting at Cape Breton Highlands. But he got more than he bargained for. Facing a notorious poacher with a reputation for letting nothing get in his way, and the local communities who viewed poaching as part of their way of life, Ben and the park wardens are drawn into an intricate game of cat and mouse that takes a turn no one could have imagined.
Set along the world-famous Cabot Trail, Dyed In The Green is a powerful story of egos, greed and corruption, pulling readers along on an emotional rollercoaster that weaves bitter rivalries into a gripping story about protecting one of Canada's iconic, special places.
Disclaimer:
This story never happened. It is a work of fiction. While place names are real, all of the characters in this book are fictitious, and any resemblance to actual persons living or dead is purely coincidental.
What reviewers said about Dyed In The Green …
"… an exciting mystery, Mercer blends fast-paced plot twists with a wonderfully detailed setting. The result is a truly unique glimpse into Canada's National Parks." Apartment 613
"… captivating … like being caught in an undertow." The Oran
"Mercer has created his own unique, but historically accurate genre … creative and imaginative … compelling and captivating." International Game Warden Magazine
"Everyone who cares about national parks should read it." Ranger Magazine
To view the book's trailer, select this link.
Follow