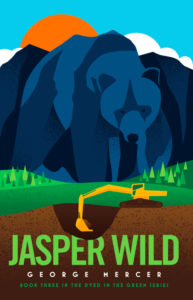 Gold Medal – 2018 Independent Publisher Book Awards – Cover Design – Fiction
After helping scuttle plans to slaughter Wood Buffalo National Park's entire bison population, Ben Matthews and Kate Jones end up in Jasper. Distracted by rumours of a new mine on the park's boundary, Ben and Kate help uncover a plot to build a backcountry lodge in Jasper's wilderness, leaving no stone unturned to stop an international mining giant from carving off a piece of the park for himself.
Jasper Wild is the third story in the Dyed In The Green series about the challenges facing our country's special places, and the people working tirelessly to protect these national treasures.