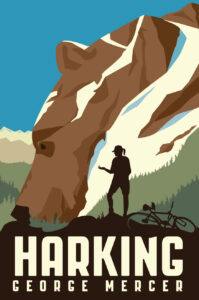 Gold Medal – 2022 Independent Publisher Book Awards – Best Regional Fiction – Canada West
Long-Listed for the 2020 Shelf Unbound Indie Book Awards, Harking is the story of a young woman's fight to save a family of grizzly bears accused of attacking a group of mountain bikers.
For the latest review of Harking check out the Ormsby Review: https://ormsbyreview.com/2021/12/20/1332-green-mercer-harking/?fbclid=IwAR3QyOs8sNOMvKzBgKnyv4KYArTTEzOPazzhlN5v3-mr1Ml7pKJ5NQfdDJo
To navigate to the prologue and first chapters of my first book outside of the Dyed In The Green series, use the drop-down menu at the top of this page.
Available in Indigo and independent bookstores across Canada as well as Amazon.
Also available on Kobo, Kindle, and now on Fanship!
Although classed asYoung Adult fiction Harking is a great adult read as well. Leave your reviews on Goodreads or Amazon.